"A great deep mud video in talll chest waders!"
I saw this video, and it reminds me of something I'd love to try. You can tell when Sam gets muddy to her lower breasts, she is amazed at how she feels. The feeling is awesome to see. I believe she gets muddy to her lower breasts three times in the video. I was just hoping to see a mud jump since she's in waders. Besides the jump, she definitely teases the camera and delivers what you hope to see, by going deeper in the mud pit. This is an absolute video for anyone who loves mudding in tall chest waders and to give a few ideas to someone who loves to go mudding.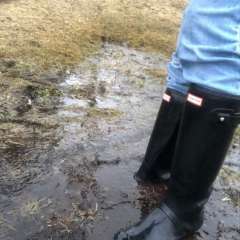 Jason A
12/10/22
"A superb video to get really muddy in thick creamy mud!"
When Sam took her first steps n mud in her boots, I knew it would be a keeper. In the video when she crosses the mud pit (to get deeper as she goes) to get to the road, I can tell she struggles through really thick mud, but its incredible to see. The substance is really thick and creamy mud; its spot on! Towards the end when she tries to muddle through the pit, not only does she grab a seat in the middle of the pit, it looks like she tries to cover herself to her crotch. I wish she would have rolled in the mud, but she still gave a star performance. For anyone who loves to use their imagination, this video is for you.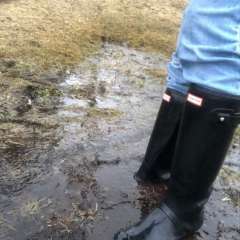 Jason A
12/10/22
"A video well worth the watch, PVC and leather boots get muddy!"
I saw this and all I can say is "wow, that's a Ton of mud"! Samantha has a way of teasing the audience. When you think she'll get muddy someway, use your imagination, and she gets muddy another way. The entire video is presented very well and for the record, you'll want to roll in this mud; I know I want to.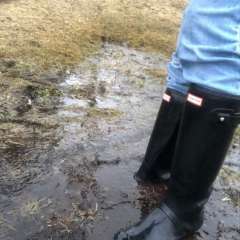 Jason A
12/9/22
"Samantha loves to be muddy"
Excellent model, who is not afraid cold or being muddy. When she has found a muddy lake, she has to get herself to explore it. And she get's really muddy doing so. btw. She is always wearing same tight black latex leggings in most of her videos, while her rubber boots collection seems to endless.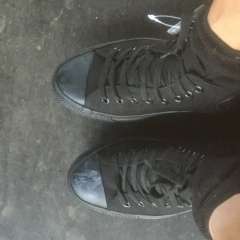 veikoh
12/22/17
Wow, those chunky platform boots are amazing! And I love the casual outfit with the black top, scarf and jacket. Betty is hot and it's great to see her walking slowly from the shore into deeper and deeper mud before she gets really stuck. The mud is excellent and very sticky. The video is not too short, not too long. It was a good decision that it skips forward sometimes, so the video has enough variety and action to keep your interest, without getting the feeling of missing out. Nice close ups on the boots as well. This type of boots and casual outfit is rare to find in fetish videos, so if you like this, it's an absolute must buy!
zomp76
8/27/16
"Gradually muddier and muddier"
Indeed a whole lotta mud – but what really counts with the performance from Samantha and her cameraman is a whole lotta experience.

Stunningly dressed for the high street in over-the-knees boots, high-visibility pants, and a smart down jacket Samantha steps into the metre deep mud as if it were the most natural and enjoyable thing in the world. She does not get stuck, she does not panic. She knows the moves to keep going and she is an absolute expert at getting gradually muddier and muddier – not in the first minutes but thanks to the choreography, all the way through. As usual the camera is rock steady and we are treated with many views from a low angle
north2
1/2/16
"Great compilation, well worth the money"
Samantha never disappoints! If you enjoy seeing a gorgeous mature woman clad in tight leather trousers, waders or thigh boots strolling through ponds or struggling through mud then this is the compilation for you.

Cooling down in a corset, Wet in Blue and Garbage and Mussels are my picks but they're all good.

Stylish and very sexy Samantha, keep up the good work!
chris494
11/23/15
"Lovely lady in muddy distress!"
This is a great video, and watching the beautiful Betty sink into the mud and get stuck just wonderful. I hope we see a lot more of her. And Samantha, why don't you come to this spot? Wear black Otk rubber riding boots, very tight red leggings and black top. With your experience I would expect you to sink at least waist deep, and it would be great watching you get really stuck, and in deep, for a change!
Billsinkers
10/28/15
"Sam is awesome wet, the wetter the better"
Love seeing Sam get wet and muddy. Great video but would have been excellent if Sam had fallen up to her neck in the creek and the creek was deeper in parts so she was waist deep still flooding her waders repeatedly. Still love this clip.
kevin57
9/13/15
The latest video is once again eye candy for the women in waders fans. The scenario is a hard working woman cleaning up the Garden Creek. This video is a natural scene. You could use it as a demo about environmental matters, in this case, keeping your creek clean. There is no narrative voice who describes the scenary but the images are more than enough to help you understand it. Next to that, the beautiful model Samantha, without sunglasses, is making this video to another must have. Keep up the good job Team Fantasnica.
Bothax
9/7/15
"New model in hip waders yet once again. Excellent video"
Another model of the excellent Fantasnica Team doing a hip waders shoot. In one word: SUPERB! Model Betty is obviously enjoying this shoot because next to a mudscene, she has a deep water and flooding boots scene as well. Highly recommendable for every women in hip boots fans.
Bothax
8/17/15
"Exceptionally Good Once More!"
I haven't written a review lately but I think that it is time once more to write some. And I want to focus on all the waders videos and galleries the Fantasnica team have published. They are just all sooo excellent. It is exceptionally good. I mean, watching beautiful models wearing hip waders in deep water. This one is no exception. It is another solid and stellar performance of the Fantasnica team. But...I think that the Fantasnica Team needs an other new pair of hip waders. If you want to have a good quality pair of waders, then you need to have LeChameau. Nora River Hip Boots are excellent too. Anyway, I am looking forward for new videos with Samantha and all the other beautiful models and wading deep in water in a new pair of strong hip waders. Keep up the good job.
Bothax
6/29/15
"A pleasure, frame by frame"
You can watch this video as normal, but if you watch it for the first time, frame by frame, not knowing quite what is going to happen next, it will give you hours of pleasure. Opus 21, with the mud slowly rising, has quality and artistry.
north2
11/23/14
"Another stellar performance"
It is always a real pleasure to watch a hip waders movie from Samantha or any other model from the Fantasnica Team. This movie is no exception. If you like a beautiful woman wading in rubber hip boots, struggling through thick mud and some murky water, then this video is definitely a must-have for you. It is always a pleasant surprise to see how good the Fantasnica Team is doing their job. Beautiful models in rubber hip boots wading deep in water, (sometimes even flooding it or having a swim in it) in a beautiful natural environment. Just awesome. Thank you so much Samantha and the Fantasnica Team. I hope though that the other models will do similar scenes as well. Anyway, I will buy all your hip booted deep water/mud videos. So let them come in Fantasnica Team! Your work is awesome and inspirational.
Bothax
10/25/14
"Deeper is always better"
Well done video. Samantha, even without dialog, conveys to the viewer that she is just a bit nervous about really deep mud- but likes it anyway. A must for waders fans as well as stuck-and-sinking fans. You get to watch her put on her new (very squeaky) waders, then explore a really nice deep, thick, sticky bog. Her muted squeals of fear/pleasure are delightful. Lots of struggling, and some mudplay at the end. She then goes to wash off her very muddy waders in a pond- oops! She didn't manage to stay dry. Some very nice wetlook at the end as she's removing and draining her waders. T-shirt + stretch denim leggings = perfect wetlook. :-) Did I mention that Samantha is hot?

ostlandr
10/25/14
Recommended. Not a poker face, Samantha entertains with a wide range of expressions and moves with the grace of a dancer. She is inventive, and after plopping down she slowly gets her jacket muddy as she enjoys playing. There is no deliberate smearing.

It is a video for puffy jacket fans, rather than leather jeans fans. The wellies are buried a lot of the time. The continuity was fine and the single fault was a cut in the middle when Samantha suddenly got a lot muddier. The camera work was well planned and very steady. There is no dithering, and no shaking. Textures are clear and sharp. A lot is shot from a low angle close to the ground. Detailed close ups are not forgotten.
north2
10/14/14
"Yet another excellent waders film"
Another great waders update from Beautywam, although personally I don't like to see the waders flooded (I prefer to see if they protect or not) this is still a great video and I am sure will appeal to many waders lovers. Amazing filming quality.

Nice to see Keyla in waders again and very nice to see some regular waders updates!

P.S. Very nice but Samantha will always be waders queen for me :)
jr2007
7/9/14
"High quality that is getting better and better"
The Fantasnica team is a team superb. Their videos are getting better and better. First of all, the addition of new models (in this case Keyla) and new types of hip boots (black ones) are just a treat for the waders fans. Also the quality of filming/editing and film quality are excellent. If there was a world championship of hip booted content, then this team would easily rank 1. Just keep up the good job, add more models doing hip booted videos and movies and fans, just send in some hip boots to this team. You will enjoy it. One point of feedback though. Please make an additional photogallery in zip form and make it ready for sale. In the past, customers were able to buy the movie and the zipped photogallery in one sale. (Samantha's sessions) I don't mind to pay some extras because the photos are good and I just want to enjoy the model in the hip booted scenes in photoform as well.
Bothax
6/20/14
"Yet again another brillant movie."
Another brilliant video, Samantha in chest waders is awesome, this film has it all mud water and waders, simply superb. Hope we see more of this in the future!
jr2007
6/14/14
"One of the best women in waders in deep water video on the net"
Everytime there's a announcement of a Samantha in waders video, I get excited. But with this update I got even more excited. First of all, a very big thanks to the contributor of the hip waders. You also deserve credit because the waders you've sent her are more than excellent with Samantha. The lovely model Samantha in those beautiful hip boots in deep water and without sunglasses so that we can enjoy her beauty without distractions. This is by far one of the best women in waders in deep water videos I have ever seen, and it is easily one of my all time favorites. Samantha, Fantasnica Production Team, Global waders fans, keep up the good work. Maybe I will sent you a pair of hip boots as well. For now...BUY THIS AWESOME VIDEO!
Bothax
5/15/14